The future is digital:
XANTEC is a part of the MAAG Group
Control and automation engineering is the heart and brain of every industrial plant. As specialists in control systems technology and data processing, XANTEC partners with its customers for their capital expenditure projects – from the first rough idea through to the handover of the operational plant.
Thanks to our many years of specialized experience, XANTEC can offer manufacturer-independent standard solutions. MAAG Group´s specialist for DIGITALIZATION offers cost-efficient, proven solutions, protection of your investment, and high availability of spare parts.
TOGETHER INTO A DIGITAL FUTURE
XANTEC has been part of the MAAG Group since 2020, but can look back on more than 25 years of company history. As an experienced system provider, XANTEC offers its customers worldwide complete automation solutions from a single source, from individual plant planning to state-of-the-art qualification.
XANTEC – when it comes to DIGITALIZING your processes
With more than 30 highly qualified specialists XANTEC has been a top service provider and recognized partner of machine manufacturers and end customers for years. The company develops standards as cost-effective solutions for control systems, as well as operating, monitoring and data acquisition systems for series machines and special machines.
The multiple requirements of the most diverse markets and applications are recorded by XANTEC in a practice-oriented manner and quickly and precisely implemented in customized concepts.
XANTEC's core expertise includes the chemical industry (e.g. the plastics and rubber Industry) – a key industry in Germany and worldwide. The experts at XANTEC accumulated particular automation experience in the fields of: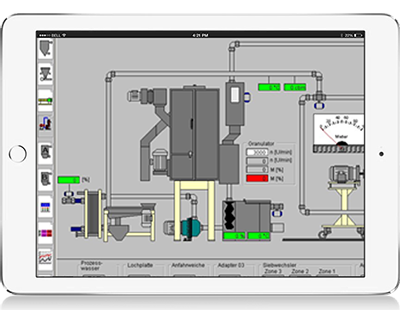 XANTEC is the leading brand for Industry4.0 within the MAAG Group and global contact for all questions regarding automation and process control.
ENGINEERING
Using proven components, XANTEC´s experts develop customized system solutions for their business partners and ensure trouble-free integration with the existing environment.
A project manager maintains an ongoing dialogue with the individual specialists in the project team and monitors the adherence to the timeline defined at the start of the project. This creates security and ensures that the engineering, the receipt of materials and the manufacturing always stay on schedule. The result: On-time delivery of the automation systems and commissioning of the plant.
The professional XANTEC planning and design system does not leave any gaps. The planning scope comprises electrical engineering documentation, PLC programming, error diagnosis and error logging, visualization, integration of the master computer, programming of computer systems and more.
The long-term operation of equipment can only be ensured with a comprehensive, standardized and well structured documentation. With XANTEC controls, this includes, for example, that the entire documentation can be provided on a data medium. Upon request, XANTEC can continue to maintain the documentation provided even after commissioning.
PROGRAMMING
In control engineering, the focus now is on capturing as many plant data as possible for processing in PLC and visualization systems.
These plant data are captured via bus systems and used as input for the closed and open loop control and the system interlocking.
The data arriving at the control system – error messages, changes in the operating conditions, measured data, etc. – must be prepared and made available to the operating personnel.
Depending on the scope, simple text displays or complex graphical operator panels are used. Very often, these data need not only be displayed but also archived.
To this effect, XANTEC develops solutions tailored to the specific requirements of the customer.
MANUFACTURING
Whether an operating panel or a control cabinet – before XANTEC delivers a system to the customer, it is installed and wired at XANTEC facility and tested against the most stringent quality benchmarks. After the control cabinets have been completed, a series of project-specific tests is performed, key element of which are the required validations according to EN standards using specialized measuring instruments.
For smaller control systems, a simulation of the functions is performed at our facility. Small to medium sized control cabinets are usually tested jointly with the machine manufacturer prior to the delivery of the machine. In case of large systems with comprehensive network integration, functional testing is carried out at the final customer's facility.
XANTEC has a coordinated storage system with a parts warehouse (containing our stock of spare parts and general material that is not ordered for a specific project) as well as a job-specific project store.
Within the MAAG Group we have the chance to successfully bring all the experience we have gained with machine manufacturers and end customers into the new DIGITALIZATION division. We offer not only complex, complete systems we want to further exploit the potential of cybersecurity and Industry4.0.
Always there for you: Service from XANTEC
With our competent team, we ensure on-time commissioning of the manufactured or supplied control system components. This comprises the on-site fitting of the electrical components as well as the comprehensive installation of bus/network systems with optical or electrical bus systems such as Profibus, Ethernet, Interbus-S and ASI Bus. Commissioning of the plants is performed by our skilled experts who in most cases have also been involved in the planning and design of the plant. This minimizes or even eliminates prolonged familiarization periods and production downtimes.
In addition to planning, designing and manufacturing, we also offer national and international after sales services comprising:
technical support
24h service (also emergency standby)
preventive maintenance
remote Maintenance / diagnostics
documentation and archiving
With these services, we ensure high availability of the plant and minimize potential downtimes.
XANTEC – Milestones of our company history
XANTEC has been developing Control and Automation systems for ist customers since 1994 – in 2020 the company became a part of the MAAG Group.
| | |
| --- | --- |
| 1994 | XANTEC Steuerungs- und EDV-Technik GmbH was founded in Xanten-Birten |
| 2000 | XANTEC moved to Kevelaer-Kervenheim |
| 2020 | XANTEC becomes a part of the  MAAG Group within Dover´s Pumps and Process Solutions unit |
| 2022 | XANTEC is merged with MAAG Germany GmbH |