Repair of pumps, filters, feed rollers, and cutting heads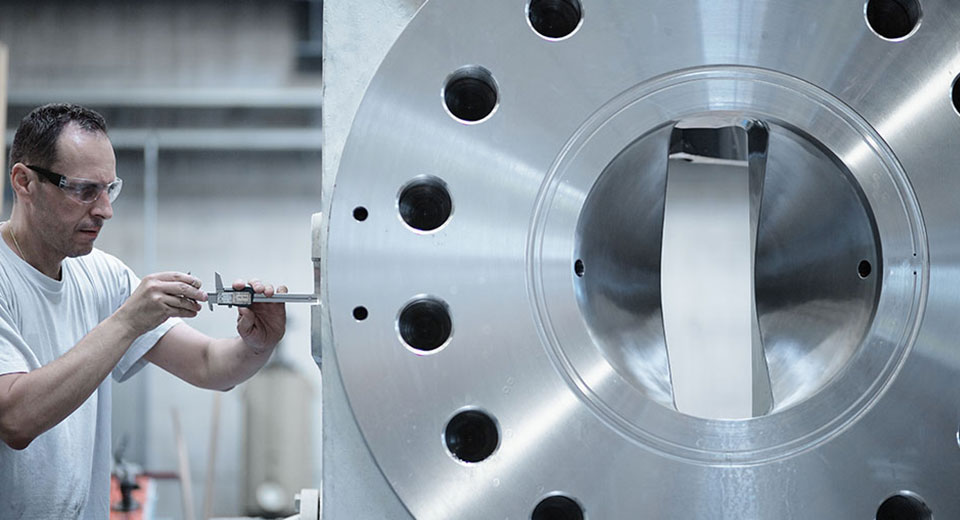 Some components have to be repaired, upgraded, or replaced during the long plant lifecycle. We offer our customers comprehensive repair services for their polymer production plants. Whether repairing gear pumps, filters and feed rollers, or reconditioning cutting heads — we ensure a long service life for your machines.
Pump and filter repair
We repair and overhaul gear pumps and filter systems from many different sectors in our repair workshops. These sectors include industry, chemicals, extrusion, polymers, and compounding. Our range is made complete with replacement parts available on site for short repair times.
Relining and overhauling of feed rollers
We offer you replacement bearings and new linings for all standard elastomer rollers. Our service also includes scoring, knurling, and lining steel rollers of all types of designs. In doing so, we apply the maximum quality standard possible which you would expect from us as an OEM.
Reconditioning of cutting heads
The cutting head in your pelletizing system is subject to high stress loads and should be reconditioned on a regular basis. Our technical staff inspect, recondition and, if necessary, replace all cutting head components. We provide different reconditioning models, such as reconditioning at a fixed price or on a time and expense basis.
The advantages of reliable repair and maintenance in polymer production:
Fast, reliable support from experts
Longer life for systems, thus safeguarding your capital investment in machinery
The high quality of our services with original replacement parts reduces your maintenance costs permanently
Improved productivity thanks to maximum machine availability
Consistently good pellet quality and increased operational reliability