MAAG Group fields of competence
The MAAG Group consolidates its long-standing and comprehensive know-how in polymer production and processing for the polymer, chemical and petrochemical industries at four fields of competence. Customers in the pharmaceutical and food industries worldwide also benefit from knowledge transfer in those segments. Short information channels and the highest levels of know-how transfer characterize the cooperation between customers and the fields of competence as well as among the fields of competence themselves. It is always about finding the optimum solution for a particular customer requirement.

Pump & Filtration Systems field of competence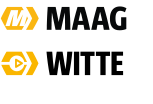 Pumps and filters of all kinds are at the core of the MAAG Group. Max Maag's first attempts to develop innovative gear pumps date back to 1908. They took place in Zurich, Switzerland. The location in Oberglatt near Zurich is still the headquarters of the MAAG Group. Maag Witte GmbH started it's business as a spare parts supplier for MAAG gear pumps and today offers a variety of own pump solutions for different areas of applications and media.
Since pumps and filters have to meet such different requirements, five centers of excellence have been developed over the years, covering the various products and systems.
The center of excellence in Oberglatt generally concentrates on gear pumps for polymer production and processing. The focus is on the continuous optimization of housings, shafts, bearings and shaft packing.
The MAAG Group's pumps team in Rozzano, Italy, specializes in industrial pumps primarily for the chemical and petrochemical industries. Upgrades and new developments ensure that the industry can be served with the best possible pump geometries for optimum processing of low- to high-viscosity products covering a wide range of applications. With varying housing designs, different requirements can be realized economically and to a technically optimum standard.
In Tornesch, Germany, the gear pump team from Maag Witte GmbH strives to always find the best solutions for customer´s processes. Each pump for the chemical, polymer processing, cosmetic & food industry is precisely tailord to the costomer`s needs
The site in Shanghai, China, focuses on extrusion pumps, especially for processing elastomers and thermoplastics. The expert team finds the optimum transfer, booster and metering pumps for all thermoplastic grades from high to low viscosity with ideal pressure and optimum shear stress.
The experts in filters and filtration systems are located at the center of excellence in Grossostheim, Germany. They develop and test filters and screen changers to meet special customer requirements.
Large-area filters are developed and produced by our colleagues in Kent, USA.
The colleagues at the various centers of excellence are continually exchanging information on their latest developments, and work together on an interdisciplinary basis.
Pelletizing & Pulverizing Systems field of competence

The Pelletizing & Pulverizing Systems field of competence has two main areas of expertise, namely pelletizing and pulverization. The AMN, AUTOMATIK, GALA, SCHEER, and REDUCTION brands have been on the market for many decades. Within the MAAG Group, they are the experts for optimum pelletizing and pulverizing systems in standardized and highly complex applications.
Pelletizing Systems
The center of excellence for underwater pelletizing systems is located in Xanten, Germany. Experienced engineers develop state-of-the-art plants, tailored to customers' specific requirements. The Center of Excellence for dryers in Eagle Rock, USA, is home to development work on the various dryer systems MAAG Group offers. When it comes to customized cutting tools for large throughputs and specific requriements, our center of excellence for Pelletizing Tools in Port-Jérôme Sur Seine, France, is the first port of call.  The center of excellence for strand pelletizing systems are located in Kent, USA, and Grossostheim, Germany, and focus on solutions for wet-cut and dry-cut pelletizing.
Pulverizing Systems
The Pulverizing Systems center of excellence in Kent, USA, produces innovative state-of-the-art pulverizers ranging from simple laboratory pulverizers and pulverizers for small-lot production to plants with large production volumes and outstanding performance levels. Employing a high degree of flexibility, the team of experts in Kent always finds optimal solutions for non-standard customer requirements.
Recycling Systems field of competence

Recycling of plastics is an increasingly important issue. The reprocessing of end-of-life plastic products for reuse is the core business of our Recycling Systems field of competence.
The Recycling Systems center of excellence is located in Königsbrunn, Germany. It is able to test the recycling process on state-of-the-art recycling lines, and also recycles in-house materials under real production conditions. The experts produce precise data and analyses, and are able to develop the optimum plant combination for plastics recycling.
Digitalization field of competence

Automation, control systems and Industry4.0 – these are the main topics that the XANTEC brand deals with in the Digitalization field of competence. XANTEC offers complete control systems for complex production plants, using standardized systems that can be flexibly deployed to meet today's industry standards.
Advantages on all sides
Polymer production, processing and recycling are complex processes. The media are diverse, and must fulfill other quality criteria depending on the method of downstream processing and subsequent application. Materials research is also continually helping to improve knowledge with regard to material composition and to invent new materials. With its pumps, filters, pelletizers, pulverizers and recycling systems, the MAAG Group is an integral part of the manufacturing processes at OEMs, large and small compounders, and producers of raw plastics.
A leader in know-how and innovation
The many years' experience of all the MAAG Group's product brands in the key areas of pumps and filtration systems, pelletizing systems, pulverizers and recycling systems makes them specialists in their respective fields. They combine comprehensive know-how gathered from many decades of research and development creating innovative production processes. The staff have many years of industry experience or possess detailed specialist know-how, which they apply in providing consulting, engineering, planning, production, after-sales and maintenance services. That know-how is the foundation of the MAAG Group's technological innovation, which will enable it to optimally meet the future requirements of the global polymer, chemical, petrochemical, pharmaceutical and food industries.
Comprehensive know-how. Integrated solutions.
Knowledge is more interconnected today than ever before. The more knowledge can be gathered from different applications and manufacturing companies in polymer production and processing, the more advanced will be the products, plants and systems developed for the efficient and sustainable production of standardized polymers, and the more innovative the solutions to meet new product requirements and applications.
The key factors for polymer processing machinery are optimum efficiency of throughput, maximum availability, maximum extruder performance, maximum pellet quality, trouble-free operation, and service-friendliness. The demands they must meet include minimizing operating cost, maximizing productivity, attaining long service life, and delivering a highly positive correlation between input and output.
At the MAAG Group's fields of competence, we conduct research and development together with our customers in order to create the optimal systems for specific situations and product requirements. Our comprehensive knowledge results in integrated solutions that offer long-term security of investment.
Space-optimized planning
The ideal machine for perfect polymer production and processing must also fit the space available at the customer's production facility. That is why we in the MAAG Group address the issue right from the early planning phases. In the vast majority of cases, flexible plant engineering allows machines and systems to be tailored to customers' requirements in such a way that MAAG Group products can be used even where space is limited.