Welcome to the MAAG Group
"Next-level solutions" … that's what we promise our customers in the polymer, chemical, petrochemical, pharmaceutical and food industries who rely on our machines and plants in their polymer production and processing and micropelletizing operations.
"Next-level solutions" … is the promise we aim to fulfill every day together with our staff of around 1,100 employees at over 20 locations worldwide. We do it thanks to our highly motivated and qualified workforce, which means we have certain requirements in terms of specialist knowledge, quality, reliability, and personal commitment. So we are always keen to employ the right people in the right place, and offer them the right opportunities for development and advancement. Employees need to bring experience and specialist knowledge to the business, combining those attributes with enthusiasm, motivation and conviction. That is the foundation for any personal success.
More successful together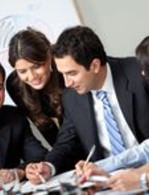 As a company with a long history at our headquarters in Switzerland, reliability, a sense of responsibility and open-mindedness are particularly important to us. Accordingly, you will find a working environment in the MAAG Group that is characterized by cordial and respectful interaction with one another, and enriched by international and intercultural relationships. We will give you the freedom to shape your own working life and offer you the opportunity to take on responsibility.
Career switchers
Are you looking for new career prospects as part of an international business? Are you willing to take on responsibility? And show what you're made of? We have a lot to offer experienced people who may be looking to switch careers. The more than 1,000 employees of the MAAG Group are not only globally interlinked at the various locations, they are also creatively and dynamically looking to a new future.
Whether as an engineer or industrial mechanic, as a financial expert, IT specialist or service technician – with us, everyone will find the position that suits them best. As an experienced professional, you will be in a position to teach others and enhance your own knowledge. This will enable you to link up with other departments and build your own networks to help you in your projects and tasks.
Career starters
Have you recently completed your education successfully? Now it's time to launch your career properly. We want to give your working life the perfect start. With various MAAG Group programs, we will be able to encourage and develop your talents, and look to build a shared future with you. As everyone knows, learning never stops – and that's exactly how we see it. We want to grow with you, encouraging and advancing your ideas. If that appeals to you, you can find all our international job vacancies in Europe, America and Asia here.
College students
Practical experience is a very valuable addition to your resume. Whether through internships or supporting degree thesis work, we aim to encourage talented young people and provide them with new methods and skills. An internship or a dual-study sandwich course with the MAAG Group is certainly not boring! Whether in production, research and development, sales, or marketing. Motivated students can join any of those areas to gain practical experience. As a student intern, you will work over a protracted period of time in a suitable department, and get to know all about working life within the MAAG Group. If you are looking to write your bachelor's or master's thesis in a highly practice-oriented setting, we will likely learn just as much from you as you do from us. It's a great chance for you to show us your skills and potential.
School students
We provide education and training to safeguard our future. We have been offering young people a sound basis of vocational training for many years. Our trainees receive broad and varied training, working in various departments and being integrated into the daily routines. Our aim is to enable trainees to find their way in the modern world of work.
What's it like working for the MAAG Group? What do they do? Is it something for me? An out-of-school practical internship can begin answering questions like that. You will gain insights into different departments and tasks within a very short time. And the great thing is that an internship of this kind gives you the chance to ask established trainees, career starters and experienced professionals lots of questions.
Working for the MAAG Group
We focus on the individual qualities of every colleague. It is just those individual qualities that recruits to our business need in order to apply the essential creativity and entrepreneurial spirit, and to help them in developing a solution-oriented approach.
We place flexibility on an equal footing with trust. Flextime, part-time work and home-working are all part of the MAAG Group's approach.
Development is a crucial aspect of our day-to-day work. Thanks to the structure of the MAAG Group, anyone can gain new skills and take on new tasks at any time. We aim to encourage and develop every colleague as an individual.
Prospects are the driving force for the future. Nevertheless, a healthy future also requires stability and security.
Work-life balance is very important to us, because good outcomes only happen when everything is in balance.
Internationalism plays a major role in the MAAG Group. With our various locations in Europe, America and Asia, we can offer exciting development opportunities in international markets.
Feedback and open dialog are forms of communication that we like to see and appreciate within the business.
All employees have a say in their tasks and projects. That is the only way we can be sure to grow into a community and successfully approach our long-term future together.
Your application
Your application will provide us with a first impression. It's your business card, and gives you the chance to present yourself and your personality. Take your time when preparing your application. Compile your cover letter, resume and references fully, and with due care and attention.