Rotor sharpening service for optimum pelletizing
Sharpening of cutting rotors is the key process in terms of the service life of the rotor. The operation time of a cutting rotor between two sharpening procedures, its overall service life, and the quality of the pellets is heavily dependent on precision sharpening. Having more than 70 years' experience in pelletizing, and handling over 6,100 rotors a year, we are the world's leading supplier in the rotor sharpening sector. In addition, more than 35 grinding machines at various global locations guarantee short throughput times for our customers. The sharpening serviced we offer guarantees the same optimum tooth profile as on the original rotor. Maintenance costs are significantly reduced, as the longer service life of the rotor and cutting blade minimizes downtimes for adjustments.
Local sharpening service worldwide
With eight grinding centers worldwide, MAAG offers the largest service network in the polymer industry. We transfer our manufacturing know-how of more than 70 years to our local specialists during training programs worldwide. With our state-of-the-art machinery, we grind cutting rotors, cutting blades, and die plates quickly, reliably, and professionally, even those from other manufacturers. Precise regrinding of the entire tooth profile allows us to guarantee reproducible pelletizing results and a maximum useful life for rotors.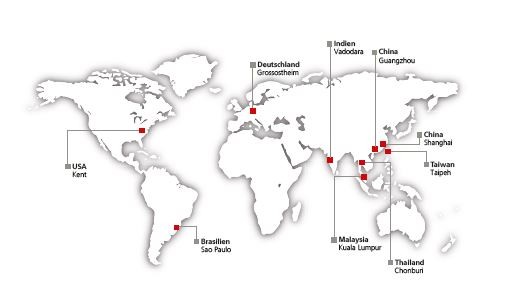 Your benefits
Reduction in maintenance costs thanks to the long service life and overall life expectancy for cutting tools
Minimal diameter reduction during grinding
Re-equipping rotors with original carbide tip blades
Guaranteed, certified quality
Download data sheet and brochures