Corrosion-resistant gear pumps for chemical processes
MAAG flexinox™ pumps are corrosion-resistant conveying units; they satisfy the stringent quality requirements of today's chemical processing industry and their three-piece configuration facilitates maintenance and replacement of internal parts, such as gears and bearings. They can be heated either electrically or with fluid. Thanks to the extensive range of components and materials available, MAAG gear pumps can be configured to suit customers specific requirements and therefore, are far superior to standard pumps in terms of performance and reliability.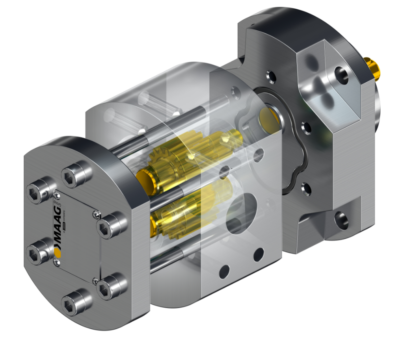 MAAG´s FQ – 'quick cleaning' version has been released for the production facilities with a constant need to clean and wash the transfer line at the end of each production batch, different colours, different additives etc. The pump can be disassembled at the quickest without needing to dismantle the drive shaft from the drive motor and the seal.
This feature can be applied also on the existing pump series by using the FQ kit or the pump can be selected as a FQ model itself.
The FQ can change the production and maintenance style without compromising on the desired operating characteristics. It provides high flexibility and functionality with easy maintenance and part replacement possibilities.
Suitable for
Advantages
Wide viscosity, temperature and pressure range
High efficiencies due to tolerances being modified in line with applications
Precise displacement volume
Self-priming
Corrosion-resistance
Reliability and longevity
Safety
Easy replacement of internal parts
une gamme de fluides de pompage typiques
Organic and inorganic chemicals
Solvents
Acids and alkalis
Emulsions
Sludges and condensates
Prepolymers, oligomers, and monomers (PAN)
Additives
Resins
Cellulose derivatives and pulps
Silicones
Waxes and paraffins
Cosmetic products
Pharmaceutical products
Food extracts and flavourings
Gum base
Vegetable/animal oils and fats
Molten Sulfur


certificats
ATEX certificate
3.1 certificate
Performance test certificates


Options
Bi-directional operation
Special modifications for demanding applications
Customizable


Technical Data
Vitesse de rotation [U/Min]
max. 3000
Pression différentielle en bar
max. 100
Viscosité en mPas
0.3 – 500,000
Températures en °C
-30 – 320
Logement
* Stainless steel* Hastelloy
Arbres de transmission
* Stainless steel* Ferralium* Hastelloy* Ceramics* Technopolymer (upon request)* Titanium (upon request)
Joints d'arbre
* Single or double mechanical seal* Single or double mechanical balanced seal* Lip seal and packing seal* Sealing ring in a wide range of materials* Sealing medium or heating medium connections available* Magnetic coupling with single or double containment shell
Connexions
SAE, CETOP, DIN and ANSI flanges
Chauffage de la pompe
* Electrical heating by cartridges on request* Integrated channels for heating/cooling by means of steam or liquids